Guide to Punta Rata and Brela Beaches
This page may contain compensated links. For more information read our disclaimer here.
by Kristin Young | Updated On: January 12, 2020
PUNTA RATA BEACH
Punta Rata was named one of FORBES Magazine's Top 10 Most Beautiful Beaches in the World, so you know you won't regret this stop.  Plus, it's along the seaside walking path that leads to several other gorgeous spots.
Amenities:
Chair & Umbrella Rental
Beach Showers
Cafe/Restaurant
Kayak and Paddle Boat Rental
Jet Ski Rental
Parasailing
Although not technically a beach, Brela Stone(Kamen Brela) is a popular spot along the beach path to stop and snag some photos of the iconic landmark.  
PODRACE BEACH
The others are beautiful in their own right, but Podrace Beach is that postcard perfect beach that you just have to see to believe.  It inspired our whole Croatia trip!
A short walk along the seaside path north of Punta Rata, past Brela rock, you will stumble upon this insanely gorgeous little cove.  Grab your camera, because there are so many incredible views that you will struggle to put it down.
Amenities:
Chair & Umbrella Rentals
Beach Showers
Cafe/Restaurant
It's the last beach just north of the actual town of Brela, and if you get there early enough, you might be able to score one of the few shady spots under the outstretched pine trees.  
Amenities:
Chair & Umbrella Rentals
Public Toilets and Changing Rooms
Snack Bar
Just north of the harbor, Soline beach stretches along the northern side of the town of Brela, with easy access to plenty of shops and restaurants.
If you're looking for lots of beach activities, especially for kids, this is your beach.  There is a fantastic playground as well as an Aqua Park just off shore.
Amenities:
Chair & Umbrella Rental
Public Toilets and Changing Rooms
Kayak and Paddle Boat Rentals
Parasailing
Jet Ski Rental
Cafes and Restaurants
Shops
WHEN TO GO TO BRELA
The best time for enjoying the beach is obviously mid-summer.  The water is always a bit chilly, but in the summer heat, it's bearable.  However, this is also the time EVERYONE else wants to visit too. If you really need to go in the summer, just make sure to get out to the beach early in the day to beat the crowds.
Ideally, if you don't mind slightly cooler weather, visit during shoulder season in May or September.  The weather should still be nice enough to enjoy the outdoor activities, but the crowds will be much smaller.
GETTING TO BRELA
Split is the nearest major airport, and the easiest jumping off point.  It can be done by public transportation, but I HIGHLY recommend renting a car.
From Split, DON'T TAKE THE HIGHWAY!  Ok, yes, you can take the highway, and it may actually be a bit faster, but you will miss out on the INCREDIBLE COASTAL DRIVE!  Seriously, don't miss it!
Learn from my mistakes and plan a bit of time in Omis.  If you don't do a whole overnight stop over, just piddle around town for a half day.  You won't regret it!
WHAT TO BRING
Punta Rata Beach and Podrace are smooth pebble beaches, but many of the Brela beaches are quite rough.  You will want to have some sort of beach or water shoe- flip flops won't do the trick.
If you don't plan on renting a beach chair, make sure to have a mat or raft to lay on.  Lounging on rocks is not exactly relaxing!
DRIVING
The roads around Brela are STEEP and TINY.  As long as you stay on the main roads, you should be fine.  But, if you take off down the teeny, tiny, cliff-hugging road to Podrace Beach, make sure you are a VERY confident driver.  We turned around after needing to fold our side mirrors in to squeeze between an oncoming car and a steep cliff.  And yes, we ended up with a flat tire!  
PARKING
Parking is going to be the most difficult part of your trip to these popular beaches, so I suggest arriving early or staying in a nearby apartment or hotel and walking.  
Punta Rata Beach:
The closest parking is entered through the gate near the Bluesun Hotel, and will cost around $3/hour.  There are no marked parking spaces, only dirt patches cleared out in the woods, and you must find your own spot.  By 10 a.m., these spots may all be gone!
There is cheaper(around $7 for the day) parking along the road leading down to Punta Rata and the town of Brela, but it is quite a hike and fills up pretty quickly as well.
Podrace Beach:
Park and Walk- That's my best recommendation unless you are a super experienced driver on tiny roads.  Along the road down to the beach, there are several dirt patches where locals are offering parking for around $10.  
Either take one of those spots and walk down(and don't forget- back up!) the steep road to the beach, or try parking near Brela and following the seaside walking path.  
Brela:
There is a parking lot near the Our Lady of Carmel Church for approximately $3/hour, but again, it fills up quickly.  
RENT A BOAT
BOAT TRIP TO BRAC
At the Harbor, there will be options for day trips both along the coast and over to the nearby island of Brac.  
If you head down the coast to the town of Makarska, there is a ferry that goes to Brac 5 times per day in high season and 3 times per day in low season.  Check out the timetables HERE.
BIOKOVO MOUNTAIN
Biokovo Mountain is an awesome spot for outdoor activities that aren't sunbathing and swimming(not that we don't love the water- but mix it up a bit!).
Like Game of Thrones??  Of course you do! Is there anyone in the world who doesn't?!  Some filming for the show was done in the mountains over Brela and Baska Voda.
The most popular peak to visit is Vosac, as you can drive most of the way up and just finish with a half hour walk to the top.  If you're feeling a bit more adventurous, there are TONS of trails. Check out the official website for more detailed information including entrance pricing.
OMIS & THE CETINA RIVER
With river rafting, rock climbing, and zip lining, active outdoorsy people will fall in love with Omis and the Cetina River.  We didn't have time for it, but after driving through this gorgeous little river town, I SO wish we would have!
It's a bit more off the radar, so slightly smaller crowds than the rest of Croatia- but it's gaining popularity.  Either go through a tour agency as a day trip from Brela, or drive the half hour up the coast and pop in to any of the outdoor tour companies.
RENT AN APARTMENT
Everyone knows I'm a huge fan of renting a house or apartment, but in this area, there aren't a ton of options.  And they book up FAST, so BOOK EARLY!
For more seclusion(if that's even possibly a thing in this area), look for something near the Podrace Beach area, like Villa Dalmatia.  However, with that seclusion comes a lack of things to do and places to eat.
If shops and restaurants are more you're thing, look for something closer to the center of Brela, like Villa Paulina or Apartments Villa Loznica.  It's all personal preference.
Don't let the map fool you.  The buildings are built into the side of a cliff, so one block off the water will probably involve switch backs that make it feel much further.
Our favorite Options:
Usually the cancellation policy at Booking.com is super flexible, so if a good option is available, grab it!  You can always cancel later.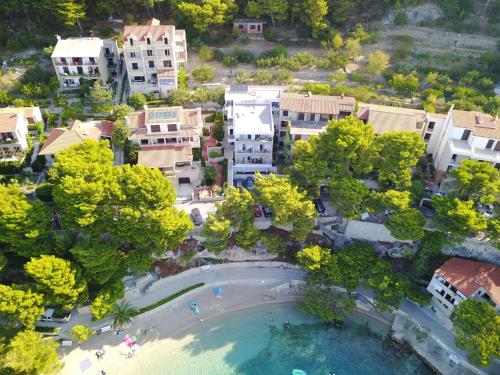 You really can't ask for a better location!  The apartment is just next to Podrace Beach(our favorite!!), and a short walk along the seafront path to Brela Stone and Punta Rata.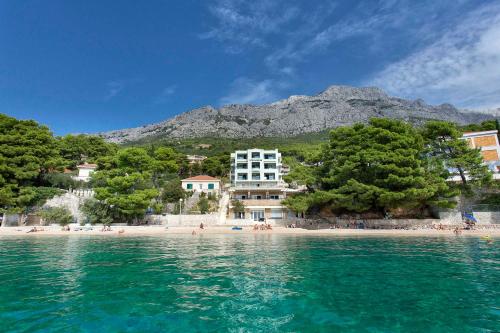 If you prefer to be right on the water, Villa Loznica is in a great spot.  It's on the beach, with easy access to places to eat and shop.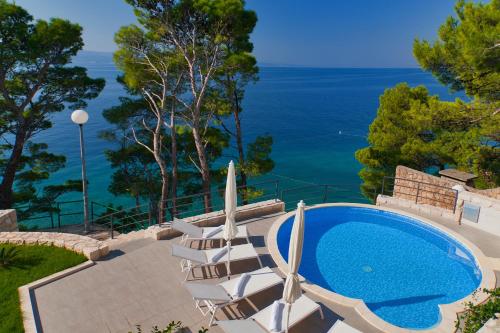 For a pool and a view, that's also just a short walk to the sea, check out Villa Paulina.  It's also near to food and shopping options.
If you're looking for more of the "resort" experience, Bluesun Soline is located right on soline beach, near town and all the shops.  It has a beautiful pool and offers an absolutely massive breakfast.
CHECK OUT OUR YOUTUBE VIDEO FROM BRELA AND BASKA VODA!
Brela is a gorgeous little town with picture perfect beaches and tons of outdoor activities, making it a fantastic stop for some beach time- as long as you can handle the crowds!  
Exploring the world,
creating memories,
and spending time together.
Sign up for Exclusive Monthly Content and Downloads